Things to remember for a Rocky Mountain Summer Holiday in Canada:
1) Passport: If you are travelling from outside of Canada, even from the U.S., you now require a passport to enter Canada. You don't need to pre-arrange your visitor visa from some countries. For more information on which countries require you to have a visa, visit Canada Immigration and Citizenship
2) Airport hand luggage: Make sure you don't pack any sharp objects in your hand luggage if you are travelling to Canada by air. Most airport websites have information on what you should pack. London Heathrow Airport Security Information provides useful details.
3) Sunscreen: You will be at higher elevations in the Rocky Mountains which means you will be closer to the sun and it's harmful rays. Lake Louise is at 1,536 m (5,039 feet); it is the highest permanent settlement in Canada (Banff is the highest town) so make sure you slip, slop, slap! (Slip on a shirt, slop on sunscreen and slap on a hat!). Areas like the tops of your ears and the underside of you chin and nose if you plan to go onto Athabasca glacier as the sun's rays are reflected off the ice.
4) Moisturiser: The air in the Canadian Rocky Mountains is very dry and you will notice this straight away. Avoid dry ski irritations by using moisturiser in the mornings and evenings. There is now a range of moisturisers such as product lines just for men. Don't pack these in your carry on luggage as they may be taken of you (see point 2)
5) Clothing: Make sure you bring out a good breathable waterproof just in case. Alberta is the sunniest province in Canada, but west coast locations such as Vancouver are much wetter.
Bring out a breathable fleece too – we have been known to have sleet and snow in the mountains in August. This is rare but does happen. Mountain weather can change suddenly so be prepared. The weather is cooler on the mountain tops.
Swim gear is recommended too as some hotels have pools and there are hot springs to soak in!
6) Water: A light weight water bottle is a must as you need to get in the habit of continually sipping from a water bottle. The higher altitude means you will become dehydrated sooner and if you don't drink plenty of water, you may find you develop signs of dehydration such as a head ache.
Avoid excessive alcohol and products with caffeine in them as these can cause a 'diuretic' (water loss) effect speeding up dehydration. Bringing out a bottle and refilling it each time is a much more friendly to the environment than purchasing plactic bottles as these inevitable end up in landfills. You can drink the tap water here and most water sources come from glaciers so it tastes great too.
7) Footwear: If you intend to hike, make sure you have some sturdy waterproof boots as the trails can be very rocky. If you don't intend to hike, there are plenty of walking trails which don't require boots and suitable footwear such as trainers would suffice. High heels are only suitable in the cities so leave those at home!
8) Backpack: Bring out a backpack with a breathable mesh as it is more comfortable in warmer temperatures when hiking.
9) Knowledge: One of the main attractions in the Canadian Rockies is the wildlife. As the name indicates, these animals are "wild" so give them plenty of room. An animal as small as an innocent ground squirrel can give you a nasty bite. In the National and Provincial parks there are large fines if you feed the wildlife as you can do the animal more harm than good.
Know what to do if you have a bear encounter and be prepared for a much rarer cougar (or mountain lion) encounter. These can happen quite close to most Rocky Mountain townsites. Visit the Parks Canada guide to safety and conservation and contact the local information office before you head out into the local area or back country for bear sightings. If there is a bear in an area, avoid that area.
During the summer months in the Canadian Rockies, the bears love to feast on the buffalo berry bush. The berries are bright red (but can also be bright orange). Know what these plants look like and if you are in an area with a lot of these bushes, make plenty of noise or turn around and leave the area altogether.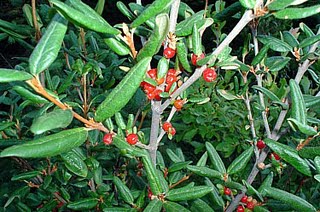 10) Preparation: Be prepared for everything. Health care is expensive here if you don't have travel insurance with medical coverage. If you injury yourself in the back country, you may need to helicopter to fly out so insurance a must.
11) Camera: Have plenty of memory if you bring out your digital camera and remember your charger!
12) Phone: If you are bringing your mobile phone from outside of Canada, be sure to contact your telecommunications provider and ask to have the "international roaming" function turned on. Check the rates before your leave as using your phone in Canada can be costly.
13) Travel adapter: If you intend to bring out any electronic equipment remember to bring out a travel adapter. Purchase this in your country of origin as buying one in Canada may be hard to find to fit your plug.
14) Credit card: Credit cards are accepted everywhere and usually there are no minimums. Make sure you contact your credit card provider before you leave so they don't treat Canadian transactions as suspicious and block your card.
Remember your pin to your credit card so you can withdrawl money although you will be charged for a cash advance by your credit card provider and for a foreign withdrawl. Ask your bank if you can use your card to withdrawl money overseas – this is usually the most economical way to pull out Canadian funds. Travellers cheques are not so common here – cash is king!
15) Itinerary: If you have had your holiday put together by a Rocky Mountain tour operator, keep your itinerary in your carry-on luggage and keep the company's toll-free or freephone number in your wallet in case you need to call. This also provides peace of mind and support if you need it.
Hopefully these steps should help you plan your Rocky Mountain Summer Holiday.
Safe travels!