Every year on July 1st, Canada's birthday is celebrated across the country. Canada will be 143 years old on Thursday so make sure you get out and celebrate with us!
The Town of Canmore organizes the Canmore Canada Day Parade. The parade starts at Main St. (8th street) and Railway Avenue at NOON.
***Railway Avenue will be closed from 10am – 2pm on July 1st for the parade and access to the downtown core will be restricted ***
To download full details on the Canada Day celebrations in Canmore, click on the image below for the downloadable PDF version: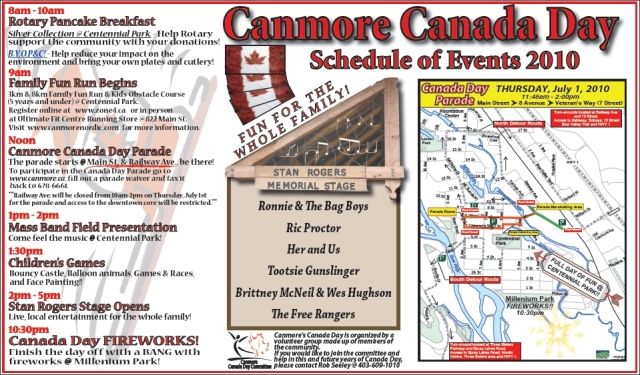 Canada Day 2010 – Canmore parade route map: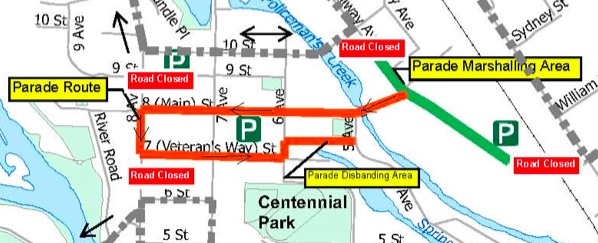 VOLUNTEERS NEEDED FOR CANADA DAY:
The Canmore Canada Day Committee is in need of help – They need people to help out with set up and tear down at Centennial Park.
– Wed, June 30 at 10am – 4 people required to pick up equipment from the Canada Day Storage and transport to Centennial Park.
– Wed, June 30,  Noon to 4 – 10 people to do set up
– Thursday, July 1 at 5:30 – 12 people required for tear down and four to take equipment back to storage.
If you or anyone you know is able to help, please contact Chris Bartolomie (Town of Canmore, Supervisor, Arts & Culture and Canmore Canada Day Committee Town Liaison) at [email protected]
Source: Town of Canmore
---
Heading to Banff?
Check out what they have going this year: Canada Day in Banff