The award winning Rocky Mountaineer train tour across the Canadian Rockies is on most of your bucket lists. If you are flexible on dates and are able to travel later this month or in May 2012, you must check out the following exclusive GoldLeaf offers on select dates from Rocky Mountain Holidays. The savings are significant.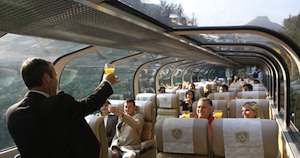 For your convenience, I have posted the eligible dates below. These offers are strictly capacity controlled and so will not be around for long.
Eastbound Departures (3 night packages)
Vancouver to Banff: May 21, 28
Vancouver to Banff/Calgary: May 3
Vancouver to Jasper: May 7, 10, 14, 17, 28
Westbound Departures (3 night packages)
Banff to Vancouver: Apr 25; May 2, 8, 22
Calgary/Banff to Vancouver: May 12, 19
Jasper to Vancouver: Apr 25; May 2, 5, 26
For more information call freephone North America on 1-888-PH-ROCKY (74-76259) and press option 1. Outside of North America you can call freephone from the U.K. on 0800-567-7542 or long distance from all other countries +1 403-609-0286 and press option 1.
Alternatively, click on this link: http://rockymountainholidays.com/rocky-mountaineer-deals.html