Canadian travel companies, including ours, have been very busy over the past few months. With Canada celebrating its 150th birthday this year, resulting in free entry into all National Parks here, combined with the weak Canadian dollar as well as Canada being seen as a safe country to visit, we are seeing record visitors in 2017. There is no better time to come and visit our magnificent country and join in with the 150th birthday celebrations. However, due to the popularity we are seeing some hotels and rail dates now completely sold out which, if you have set dates in mind, is proving to be quite disappointing, as not all the guests booking this late into the season will be able to secure rooms in the best hotels. If there is availability, then you will receive a FREE hotel night when you book a 2017 Rocky Mountaineer package of 4 of more nights, but this offer does not hold a candle to those who are now booking their 2018 vacation this far in advance. If there is one thing our guests have learned from the 2017 season, it is that booking far in advance gets you the best rates and deals, as well as availability at the best hotels. For a deposit, you can lock in the 2018 dates you want, at the best hotels and receive the best deals.
Rocky Mountain Holidays have just updated their website to include all of the 2018 Rocky Mountaineer Vacation packages. We are very excited about the addition of the "Culinary and Adventure Packages". These packages have been introduced based on customer feedback and are to appeal to foodies and the more adventurous types – we think they will be very popular indeed!
Rocky Mountaineer have also renamed some of their popular packages to avoid confusion and to allow you to know for sure, you are booking a genuine Rocky Mountaineer vacation package. Look out for following trade-marked route names in the packages: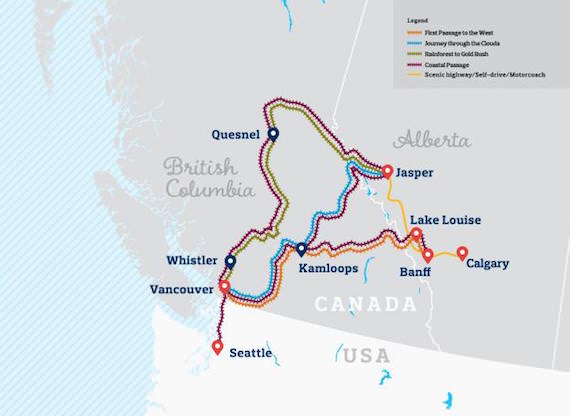 Journey through the Clouds™
Means the package incorporates Jasper-Kamloops-Vancouver 2-day train route (or reverse)
First Passage to the West™
Means the package incorporates Banff-Kamloops-Vancouver 2-day train route (or reverse)
Rainforest to Gold Rush™
Means the package incorporates Jasper-Quesnel-Whistler-Vancouver 3-day train route (or reverse)
Coastal Passage®
Means the package incorporates the newest Seattle-Vancouver 5 hour train route (or reverse)
Any operators trying to mimic a Rocky Mountaineer package can no longer do this as they can not use the above trade-marked terms in their package names. We welcome this change as it ensures guests know that they are booking a genuine Rocky Mountaineer package, and not a trimmed down inferior product.
With our Canadian dollar so weak, you can now book your trip of a lifetime for less than you think. With a weak dollar, travelling outside of Canada is expensive for us Canadians, so we are finding many Canadians are now exploring their own country with a good old "staycation". It is a great time to travel in Canada, no matter where you are from.
Right now, Rocky Mountain Holidays are offering their best rates and deals for 2018. You will also be able to get locked into their private tours while availability is still good. Be sure to contact them directly to ensure you receive the absolute best service: RockyMountainHolidays.com
Have you travelled with Rocky Mountain Holidays or onboard the Rocky Mountaineer train? Share your experiences with us below!