Rocky Mountaineer 2013 packages are now available to book with Rocky Mountain Holidays.
For 2013, there are less vacation package options due to the fact that a lot of packages can easily be customised making some of the current 2012 packages redundant.
The new Rocky Mountaineer Coastal Passage Route – 2013: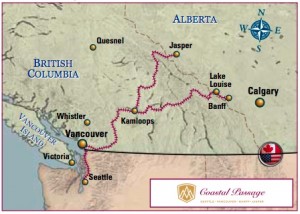 The most exciting addition is the new Coastal Passage Route from Seattle which connects to Vancouver then onto Banff or Jasper in the Canadian Rockies. There is currently only one departure date set in August 2013 which means that this debut route will likely book up quite early.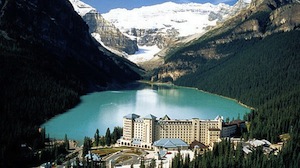 Another addition for 2013 is the option to board and disembark the Rocky Mountaineer train in Lake Louise (as well as Banff as before) in Banff National Park. This provides us with more customisation options based on guest preferences.  The station is located just southwest of the Lake Louise Village, and less than 5 km northeast of the Fairmont Chateau Lake Louise. The address is: 200 Sentinel Road Lake Louise, Alberta T0L 1E0. View Map
Motorcoach transfers will be available to and from the Fairmont Chateau Lake Louise, and are included on all packages except 2 day rail-only. For guests departing from Lake Louise, please note that all check-ins will be at the Fairmont Chateau Lake Louise, and NOT on the station platform or at the station itself.

After the successful introduction of the onboard SilverLeaf service in 2012, the Rocky Mountaineer will also be offering this service on the Vancouver to Jasper two (2) day "Journey through the Clouds" route. SilverLeaf service will not be available onboard the Rocky Mountaineer route between Whistler and Jasper in 2013 and could potentially be introduced in 2014.

For the most luxurious accommodation option, this has been rebranded as "GoldLeaf Deluxe Service". This allows us to book more than just Fairmont properties, such as the Four Seasons brand in this deluxe accommodation category, without conflicting with the Fairmont branding.
Cruise terminal transfers will be included with all Rocky Mountaineer rail and cruise packages in 2013.
Other than on packages connecting to Coastal Passage route, Holland America's Oosterdam cruise from Seattle up to Alaska has been removed in 2013.
The Rocky Mountaineer city stops will not be available in 2013.
Rocky Mountain Holidays now have all of the 2013 Canada rail vacation packages for download along with early-bird pricing and promotions.
Thanks for reading and don't hesitate to message us direct with any questions you may have. For reservations, we recommend you book direct with Rocky Mountain Holidays, an A+ rated business with the Better Business Bureau (their highest rating) and licensed with Consumer Protection BC for financial protection.
Safe travels 🙂