Category Archives: celebrities
The Canmore weather is set to be great for this event – see you there!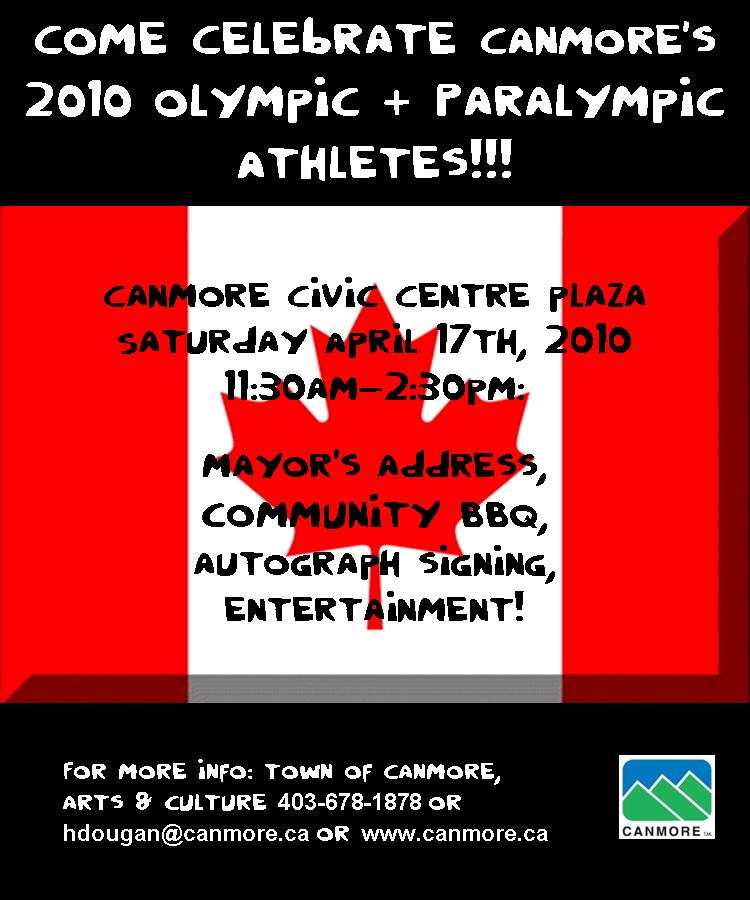 Source: Town of Canmore
Olympic Medalist Jenn Heil to visit Jasper Marmot Basin.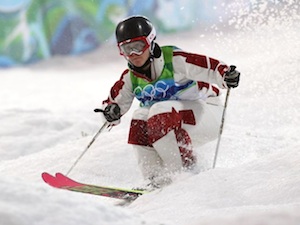 Jasper Marmot Basin is thrilled to have Canada's five time World Champion of mogul skiing, Jennifer Heil, visit on Saturday April 3rd 2010. You can meet Jenn at the Paradise Chalet.
Get an autographed photo and go for a run with our Olympic hero!
The Olympic Silver medalist was the first Olympian to win a medal at the Vancouver 2010 Olympics. She was the gold medalist in Turin in 2006 and has just won her fifth World Championship in freestyle mogul skiing.
Watch her win silver on YouTube: Jenn Heil in the Vancouver 2010 Olympics
The Rocky Mountaineer train is one of the most famous and spectacular train journeys in the world and as a result attracts famous people and celebrities. Below is a list of famous people and celebrities who have been on this spectacular rail journey (that we know of!).
When you go on a Rocky Mountaineer Holiday – you never know who you may see!
Peter Jennings, ABC News Anchor

Sam Sullivan, Former Mayor of Vancouver

Kevin Falcon, Minister of Transportation

Stephane Dion, Former Leader of the Liberal Party

Joe Clark, Former Prime Minister of Canada

John Reynolds, MP/MLA and Speaker of the House of Commons

Chaim Herzog, Former Israeli President

Molly Sugdeon, TV Actor – played the role of Mrs. Slocum on the British comedy "Are you being served?"

Carroll Spinney, TV Actor – played the role of Big Bird on "Sesame Street"

The great-great-grandson of Simon Fraser – he proposed to his fiancée on the Fraser River between Lytton and Vancouver on the westbound leg of the journey in the dome car

The great-great-granddaughter of Billy Barker (Onboard in 2008)

Andrew Jergens, Inheritance magnate of Jergen Soap Products – one of the family members with him is the inventor of Crocs (shoes)

Dal Richards, Musician, Dal Richards Orchesta (Vancouver)

Carlo Rota, TV Actor, host of "Great Canadian Cooking Show" and now starring on "Little Mosque on the Prairie"

Charlotte Gray, Host of CBC's "The Greatest Canadian"

Morgan Freeman, Film Actor

Ken Dodd, British Comedian – he resembles a real life Austin Powers.

Dr. Heimlich, Inventor of the Heimlich Maneuver

Thaksin Shinawata, Former Prime Minister of Thailand (Onboard in 2003)

Bill Gates, Founder of Microsoft – he bought out an entire RM GLS dome coach for him and his family and asked to stop the train for a photoutside. This was allowed for him, of course. (Onboard in 2003)

Patrick Stewart, TV Actor – Jean Luc Picard, "Star Trek Next Generation" (Onboard in 2006)

Hans Blix, Swedish Diplomat – served as the United Nations Chief Weapons Inspector (he was the one who told George Bush there were no weapons of mass destruction in

Iraq, although Bush invaded anyway). (Onboard in 2006)

Anna Faris, Film/TV Actress – Scary Movie, Entourage, The House Bunny, etc. With a group of friends onboard RM winter train. (Onboard in 2007)

John Bishop, Chef of Bishops Restaurant in Vancouver, BC
The Whistler Mountaineer
Rajan Datar, Host of BBC TV "Fast Tracks" – he is a very well known British Television personality with program aired internationally. (Onboard in 2006)

Alan Thicke, TV/Film Actor, "Growing Pains". (Onboard in 2007)

John Curly, Host of "Evening Magazine" (Seattle). (Onboard in 2007)

Johanna Ward, Host of Shaw Cable's "The Express". (Onboard in 2007)

Michael Eckford and Fiona Forbes, Hosts of Shaw Cable's "Urban Rush" (Onboard in 2007)
To obtain Rocky Mountaineer prices please visit Rocky Mountain Holidays for a full list of downloadable PDF brochures.